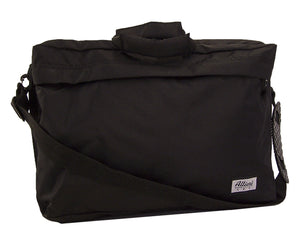 You own a clarinet that you will play and cherish for years. Give it the care and protection it deserves with an Altieri Clarinet Traveler. Born from mountaineering bags developed to meet the harsh conditions in Colorado's Rocky Mountains, Altieri products are designed to shield your instrument from the rigors of freezing winters and hot summers while maintaining a refined style at home in any concert hall.
Features:
• Expandable front outside zipper pockets large enough to hold a full size orchestra folder plus reeds and tools
How it's carried:
• Webbing handles
• Expandable back outside zipper pocket reveals padded backpack straps that clip into place
• Small velcro pocket inside front pocket to hold smaller items
How it protects:
• 4-layer quilted liner stabilizes your instrument while protecting it from heat, cold, and moisture
• Outer shell is a heavy duty, water resistant nylon Packcloth that lasts for years
• A stylish interior finish that is lint and fuzz free.
Bag measures:
Double Case Clarinet Traveler
44.45cm  long x 35.56cm  wide x 11.43cm deep
17.5″ tall x 14″ wide x 4.5″ deep
Proudly made in Denver, Colorado, USA